'Singing' in the New Year!
If you're like me you're probably a little blue from the Holidays being over and having to go back to life as we know it! Why not bring in the New Year with music and song that can make your every day living a Holiday!?
I recently visited Nashville Christian Towers, an assisted living community, where Kyshona Armstrong was performing songs and celebrating the Holidays with the residents. Kyshona is a Nashville based performing songwriter and music therapist. She has combined her talents and skills to give back to the senior community through the work of Music For Seniors, a Nashville based nonprofit arts organization enlisting Nashville-area professional, semi-professional and student musicians to provide interactive outreach performances to senior centers, day programs, retirement communities, nursing homes and even home-bound older adults. Their performances span a wide variety of music and genres focusing on the tastes, preferences and needs of the older adults whose lives they touch. For more information please visit https://www.musicforseniors.org.
The photo shows Kyshona with Nashville Christian Towers resident, Sherry Nelson, singing together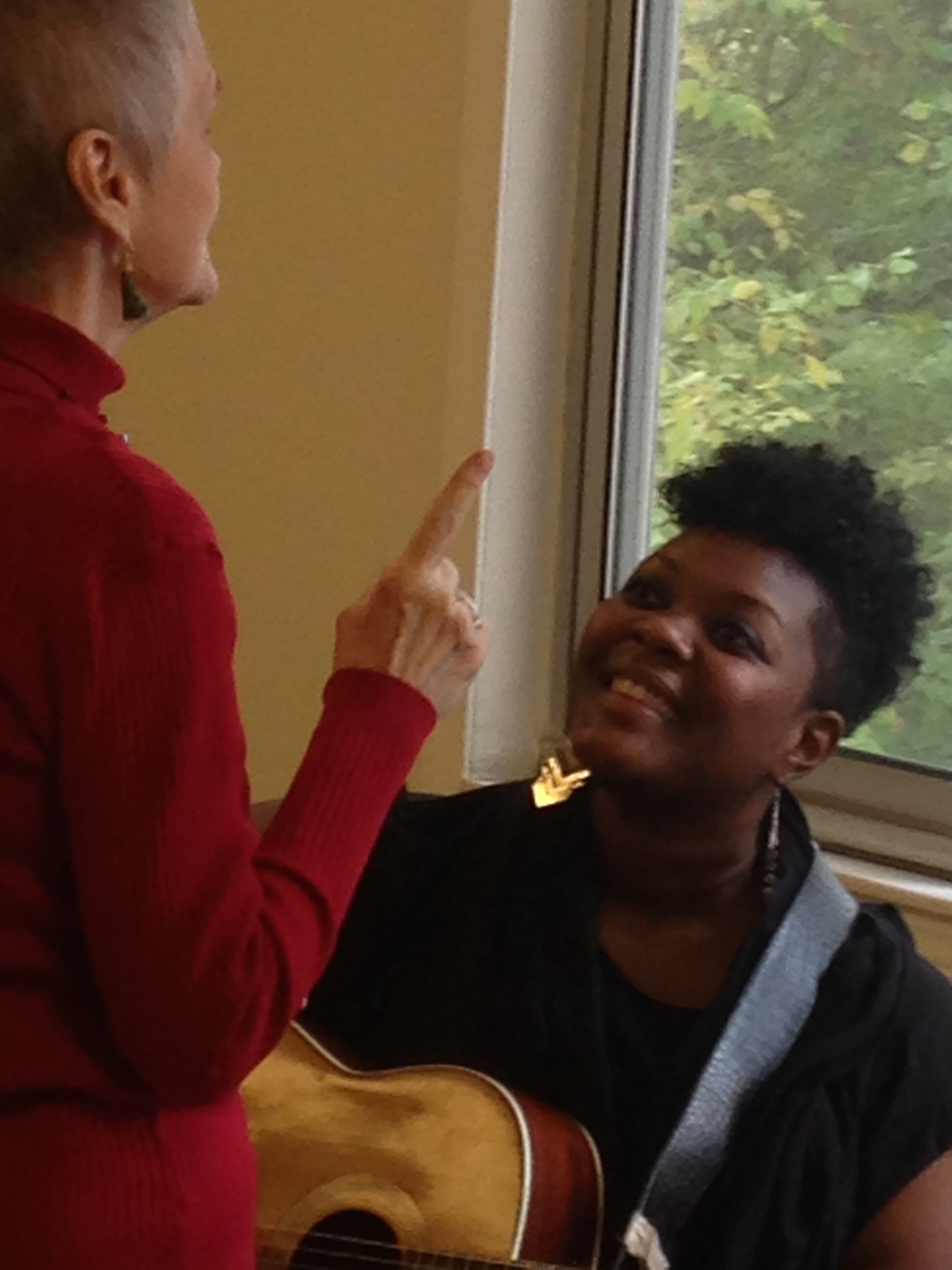 'Mary Did You Know' as part of the Holiday celebration. I spoke with Sherry and she first moved to Nashville 29 years ago to be a Nashville singer. She loved singing at the Nashville Palace and with her most beautiful voice – sang to us on this day! I was moved by the interaction of the residents and how Kyshona's songs engaged them to sing along, laugh, and support each other in tune and out of tune!
Kyshona has been a performing musician and trained music therapist for over 15 years. Kyshona's latest album, "Go," shows off vocal stylings reminiscent of Aretha Franklin, Etta James and Al Green. She has three independent releases under her belt: 2008's EP "Music;" 2011's EP "Home Again;" and her 2014 full-length album, "Go." Visit Kyshona's website at https://www.kyshona.com.
The use of music from an individual's formative years helps memory recall and provides a safe environment for group cohesiveness. My mom has early stages of Alzheimers/dementia and music is the one thing that gets her up out of her recliner and dancing around the house with her 17 year-old dog Pepper!
I saw this same level of excitement and engagement when the residents sang along with Kyshona to the song Sixteen Tons by Tennessee Ernie Ford and Blue Christmas by Elvis Presley!
Kyshona says that performing for seniors is more interactive than the usual performing for entertainment alone. She prefers to walk around and share space with the audience members and incorporate them into the music.
The types of songs performed depends on the demographic of the group. Kyshona loves performing old folk and country songs, but really enjoys playing Motown, blues and gospel – the songs she grew up with.
There's no question – music changes the moment. Living in the moment is all we have. Tennessee has a unique gift to give – music.
Sing in the New Year and every day until 2017! I dare you!